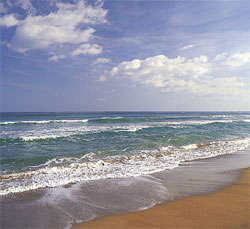 LOCATED ON THE GRAND Strand just minutes south of Myrtle Beach, Surfside Beach is "The Family Beach," two miles of beautiful shoreline and high dunes drenched by the warm breezes of the Atlantic Ocean.
While life in Surfside Beach centers around the water, as the town-s name implies, there's much more to this peaceful stretch of sand and surf than sunglasses and sunscreen. In nearby Murrells Inlet, Brookgreen Gardens, established by Archer and Anna Hyatt in 1931, features sculpture and horticultural gardens, as well as a zoo, all meandering over 9,000 acres. A National Historic Landmark, Brookgreen is not only one of the largest public gardens in the South but also one of the most culturally significant.
" Nearly 120 courses, most of them built by the nation-s leading golf course designers, are available to rest any skill level.. "
With its close proximity to Myrtle Beach and other surrounding towns, recreational activities are almost limitless for residents of Surfside Beach. Renowned for the number, variety and quality of its golf courses, the Grand Strand is a world-class golf destination. Nearly 120 courses, most of them built by the nation's leading golf course designers, are available to test any skill level. While some courses are private, most are open to the public, and many of them host both professional and amateur tournaments throughout the year. The PGA Tour Superstore World Amateur Handicap Championship every fall challenges a remarkable 5,000 golfers on 70 different area courses.
The town of Surfside Beach offers numerous services, including a senior center, a public library, several parks and a civic center.
With more than 40 restaurants in Surfside Beach alone, dining opportunities abound. Since the Atlantic and other bodies of water are nearby, there is no shortage of fresh local seafood, but there are countless other dining options, ranging from bakeries to Italian cuisine.
A large number of Grand Strand malls, including a Tanger Factory Outlet Center, promise endless shopping. Boutiques and specialty shops-many of which line miles of boardwalk-round out the shopping experience. Flea markets, art galleries and furniture and interior-design shops help furnish anything from beach houses to link-side villas.
Festivals and community events guarantee plenty of activities, from Christmas parades to fishing rodeos to art exhibits.