VIBRANT MYRTLE BEACH boasts of its bright lights, wide beaches and wider range of entertainment, shopping and dining opportunities. Historic Georgetown, once an important port city, bills itself as a key player in the story of the United States. About halfway in between along the Atlantic coast is the laid-back town of Pawleys Island, whose residents would just as soon eschew the notoriety that often accompanies present-day popularity and historic significance.
"Locals refer to their island as "arrogantly shabby," though there is nothing shabby about the island."
Pawleys Island, located in Georgetown County, is a little more than three miles long and a quarter-of-a-mile wide. Though it is within easy driving distance of an array of world-class golf courses, the excitement of the Grand Strand and the history-laden cities of Georgetown and Charleston, it serves as a peaceful refuge for its residents and visitors
Fewer than 200 people live on the island, though thousands more enjoy the beach, fishing, crabbing, shrimping and bird watching during the summer months. According to local lore, among the full-time residents of Pawleys Island is the Gray Man, a mostly friendly apparition whose most important job is warning residents of approaching hurricanes. Legend has it that the homes of those who see the Gray Man survive storms unscathed.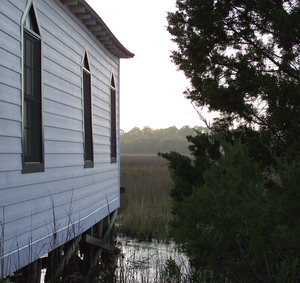 Connected to the mainland by two bridges, the North Causeway and the South Causeway, Pawleys
Island was incorporated in September 1985 but is virtually without commercial buildings, other than a town hall/sheriff's office, a chapel and two inns. Among the oldest residences on the island are Beachaven, on the north side, owned by William Brigham Sr., and the Pelican Inn.
The earliest inhabitants of Georgetown County were the Waccamaw and Winyah Indians, who called the area Chicora, which means "the land." Spanish explorers probably visited the area in 1526 but did not establish a permanent settlement. English planters and their African slaves arrived in the early 18th century and made their mark by building thriving rice and indigo plantations.
Pawleys Island, named for early settler George Pawley, served as a refuge from the mosquitoes that were plentiful and, once malaria was introduced in the Colonies, dangerous during the summer months. Through the years, Pawleys Island has retained its relaxed atmosphere and laid-back attitude despite its proximity to the fast-growing, fast-moving and ever-developing Grand Strand of coastal Carolina. That-s the way its residents like it, describing their community with pride as "arrogantly
shabby."