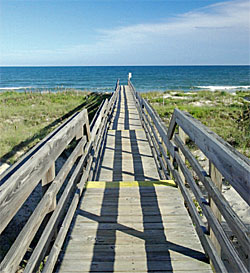 BETWEEN THE BRIGHT LIGHTS of Myrtle Beach and historic Charleston lies a quiet, residential enclave right outside Pawleys Island, South Carolina. North Litchfield is a family-friendly coastal neighborhood with beautiful beaches and a propensity for fostering active lifestyles.
Only two roads lead into North Litchfield from its western edge at Highway 17, ensuring peaceful seclusion to residents and visitors alike. One of those winding roads ends at a wooden "We Love Litchfield" sign, imparting a welcome and a promise that the people here intend to preserve this slice of paradise, which is only two miles long and a few blocks wide.
North Litchfield is bordered by Huntington Beach State Park's 2,500 undeveloped acres. And an East Coast Greenway bike path meanders from North Litchfield, through the state park-s longleaf pine forest and in front of Brookgreen Gardens, a 9,000-acre jewel of the South Carolina Lowcountry that features a world-renowned sculpture garden.
North Litchfield is a pristine area where there probably are more blue herons, snowy egrets and gray pelicans than people. Sea turtles safely nest on the beach-front, amicably neighboring the low-density beach development that sets North Litchfield apart from most other coastal communities.
The ocean-front homes, many weathered by time and salt air, are largely vacation rentals, prime real estate in the summertime when families near and far yearn for the nostalgia offered here. Inland from the beach-front homes, North Litchfield is a family neighborhood with few condos, says Dee Meekins, partner of Dream Launcher Realtors.
North Litchfield preserves a simpler way of living, even though a few newer homes are sprinkled among the residences that have been here since the area was first developed in the mid-1960s.
Life in North Litchfield is casual yet refined, and the residents fully embrace their natural surroundings. Defined by well-preserved oak trees, towering palms and healthy dune lines, North Litchfield boasts large lots that are within walking distance of the Atlantic. Its white, sandy beaches are the favorite gathering spot for residents, and on weekends many of them drive their golf carts to the public beach accesses, located every few blocks.
"Beaches here are so wide," says Meekins.
Though North Litchfield is in an unincorporated area of Georgetown County and does not have municipal government infrastructure, it has a small but involved population that hosts litter sweeps and beach cleanups.
"There is a really active volunteer homeowners- association," says Happy McLeod, Meekins' partner. "They look out for the best interests of the residents, which is why the area remains aesthetically pleasing."
By Melissa Newsom